Mopping is one of the best ways to get your floors clean and using a mop beats getting on hands and knees.  However, you definitely want the right mop for the job.  There are many mop options – we list them all out and describe them below.  Learn everything you ever cared to know about mops right here.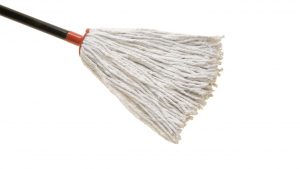 Rag mops are very useful because they are more absorbent than other types of mops. These mops hold way more than a flat mop head or sponge mop could ever dream of. They are great for mopping up spills. They also get into corners and other tight spaces very well. Edge cleaning with a rag mop is often very good because the fibers are great at getting into places that other types of mops cannot reach.
One of the biggest disadvantages to rag mops is that they are more difficult to maintain. Another major disadvantage is that they tangle and disintegrate fairly quickly. Sometimes loose strings come out of the mop head and get left behind.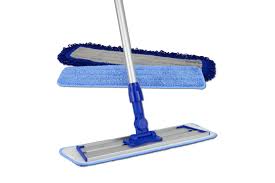 Microfiber mops actually have some significant advantages over both cut-end mops and looped-end mops. The microfiber material is much easier to keep clean than the aforementioned mops, so it is a more sanitary option. Other types of mops have the tendency to become moldy after being used for long periods of time. This usually ends up with you having to throw away the mop heads and then being forced to buy new ones.
If you own a microfiber mop, then you will be able to simply clean and reuse the microfiber mop head many times. They can be washed over and over again without degrading. Even if you wash a microfiber mop hundreds of times, it should still be in great shape and will be ready to help you complete your cleaning task. This makes it one of the most cost-effective methods that is available to you.
There are some negatives about microfiber mops that you will want to be aware of as well. The biggest problem with microfiber mops is that they are not as absorbent as the materials listed above. This means that they won't soak up spills quite as easily as other mops. Even so, you will be able to accomplish your mopping with a microfiber mop.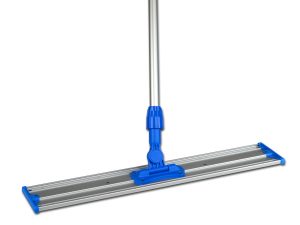 Flat mops are convenient to use when you need to mop without using too much water. Most people who purchase flat mops will use just a little bit of cleaning solution and mop their floor with it. You can actually mop things up really effectively by doing things this way. You'll be able to clean up the area without getting things too wet.
There are some types of floors that you are not supposed to get too wet. Good examples of this include hardwood flooring and vinyl flooring. Using too much water can wind up damaging the floor and this is going to be very counterproductive. If you want to avoid these types of problems, then you should make use of a flat mop instead of traditional mops.
Luckily, a good flat mop is going to be very simple to use. You'll be able to use the mop to get right up against the corners of your walls, too. In some ways, using a flat mop is actually easier than using a traditional mop. Once you have become used to the intricacies of flat mops, you'll be cleaning up your floors really nicely.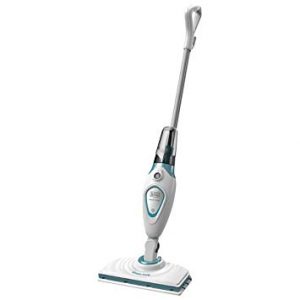 Steam mops can be really nice when you want to remove stains or other gunk from your floors. There are many different models of steam mops on the market that you will be able to peruse. If you want to buy a high-end model that can also steam clean your carpets, those are going to be available for your consideration. Most people wind up buying the more affordable versions that are simply meant for mopping your floors.
What these steam mops can do is use steam to help remove built-up dirt and grime from your floors. If you have particularly dirty floors that you need to clean, then owning a steam mop is really going to help. You can break up the gunk that is stuck to your floors and clean it up without it being too much of a hassle. These mops are really good at what they do and you'll be happy to own one.
There are many styles of these steam mops on the market and you'll want to get one that will suit your needs. The product being shown here is a great general purpose steam mop that you can make use of in your home. It will allow you to control the steam output with three convenient settings. You can choose from low, medium, and high steam to finish up your mopping with ease.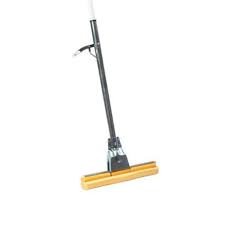 Sponge mops are another method that people use when they want to clean up spots and spills on the floor. Everyone knows that sponges are very absorbent, so when you combine the functionality of a sponge with that of a traditional mop, you can see how that would come in handy. If you use a sponge mop to its full potential, then it will be able to help you clean up even a really dirty section of your floor. Some people find them to be significantly easier to use than many of the other mops mentioned above.
Scrubbing the floor is actually somewhat simpler when you have a sponge mop. It is easier to scrub out a spot than it would be if you were using a microfiber mop or one of the cut-end mops. It's just simpler when you are trying to get traction and need to apply pressure to an area of your floor. For this reason, many people use sponge mops exclusively in their homes.
The sponge mop that is being used as an example here is a great product. You will be able to change out the sponge portion when necessary. It is very simple to put a new sponge in the mop and you'll be able to use each sponge for quite a long period of time before needing to replace it. The sponge is incredibly absorbent and will work excellently to clean up your floors.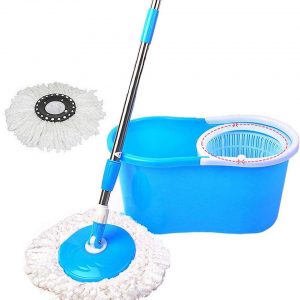 Another interesting way to mop your floor is by using a spin mop. Spin mops pretty much function the same as a traditional mop, but they are a bit different. You can spin these mops to help eliminate stains and get your floor clean faster. It can be really convenient to be able to clean up dirty spots easier without having to scrub them really hard.
The spin mop being shown here has several characteristics that make it stand out as a good purchase. The first one is that it features a telescoping handle. You will be able to adjust the handle of the mop to make reaching certain places easier than ever before. It makes it so that you won't have to bend down or try to get into an awkward position just to be able to mop one particular spot.
This also comes with a convenient bucket and basket. You'll be able to roll it around your house and clean everything up very effectively. This would even make for a good purchase for commercial purposes, as it truly is a very effective mop. It is available at an affordable price as well, making it a great purchasing option for anyone who would like to own a spin mop.