A grimy driveway accumulates potentially dangerous and corrosive or acidic chemicals, along with dirt and other contaminants. Ignoring a dirty driveway presents numerous hazards, but routine pressure or power washing offers multiple benefits.
Regular pressure washing benefits not only the current homeowner but also impacts the home's value and enhances the property's overall curb appeal. Periodically cleaning concrete extends its service life and boosts its visual appeal.
Recognizing the need to clean concrete can be challenging since dirt and grime accumulate gradually. However, once the cleaning process is complete, the unmistakable results of freshly cleaned concrete become evident.
Do you want to have the freshest-looking house on the block? Relying on rain won't eliminate those black streaks on your roof and siding. Our team of trained professionals can expertly restore everything from your driveway and sidewalks to your patio and deck, as well as your roof and house siding.
Letting years of dirt, grease, and grime accumulate and penetrate these surfaces will undoubtedly result in irreversible damage. Deep cleaning services for bungalows differ significantly from your typical, everyday cleaning methods. We employ the appropriate tools, products, and techniques to ensure a comprehensive cleaning and sanitation of a house.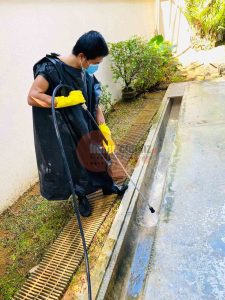 Total Cleanz cleaning you never have to worry about the quality of equipment and products used to clean your house because we do not compromise on quality in any shape or form.
Our deep cleaning services are carried out with the help of industry leading equipment and top of the line cleaning products.
At Total Cleanz we provide professional pressure jetting services at most reasonable prices.
Contact Us Now!