Keeping an office clean can be hard work. You need to make sure that your employees are working in clean environments. Your clients get to see your office looking its best and it is a place you are happy to spend all day within.
Cleaning Your Computer, Keyboard and Desk Phone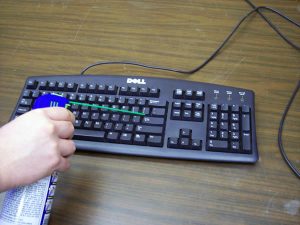 According to one article by WomensWeekly.com, the desk is one of the most unhygienic places in the office. With phones, computer screens, keyboards and mice coming into constant contact with germs, bacteria and microbes, it is no wonder that they need cleaning regularly.
Your computer screen, keyboard and phone should be wiped down at the end of every week. However, if you are ill or have recently eaten at your desk then it is a good idea to use a disinfectant spray and clean cloth to wipe down these surfaces.
This will ensure that your desk surfaces are clean and you have no unwanted germs lying around.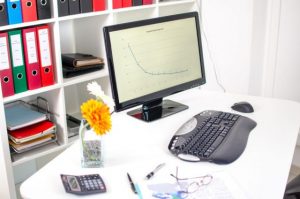 Your desk normally reflects your personality. It might be covered in files, filled with pictures or even the cleanest place in the office.
No matter what your desk looks like it is important to keep it tidy. This will not only help to combat stress but keep it germ-free as well.
When it comes to cleaning your desk, it is all about how often you use it. If you tend to avoid your desk then a good dust every two weeks will be enough. However, if you work solidly at your desk every day then you should take the time
to clean it regularly.Try to start every week with a five-minute cleaning session of your desk so you can tidy away anything you don't need, wipe down the surfaces and wash up any cups or plates you may have left on one side.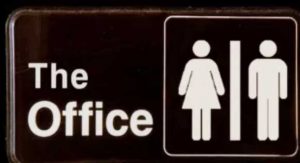 You might have a cleaning company that comes in to clean your office and bathroom but if not then you need to make sure that you keep up a cleaning routine for the bathroom.
This means wiping down the surfaces such as the sink and taps every day because these are the areas that come into contact with many different germs. You should also bleach and scrub the inside and outside of the toilet bowl every week, disinfect any soap dispensers and mop the floors.
This might sound like a lot of work but with the right office cleaning products and a little patience you can keep your office bathroom in a tip-top condition.
Cleaning the Carpet and Mopping the Floor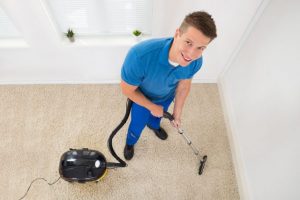 Most offices have carpet flooring because it is easier to hide any marks or dirt. We walk a whole range of germs and bacteria through the office when we arrive and leave. Over time even the darkest of carpets can become discoloured and need cleaning.
It's standard to give your carpet a good vacuuming now and then. Make sure to budget for a top-notch vacuum like the power force vacuum cleaner from bissell as it will tackle the large expanse of your office space with vigor. They will also last longer and be more durable, so you can have it on hand for years to come.
The best way to clean your carpet is to do it during the weekend when your employees are away. Remove as much furniture as you can and shampoo the carpet thoroughly. You can also opt for a drying shampoo which instead of leaving a wet foam, dries into a powder form. Once the shampoo has dried you can hoover it up and have a brand-new looking carpet.
If you are lucky enough not to have a carpet in your office then you might have laminate or wooden flooring instead. With this kind of flooring you can easily mop them down with a specialist wood or laminate floor cleaner and then leave them to dry.
Take the time to clean your office, tidy your desk and work in a better office environment!
Total Cleanz offers long term office regular cleaning to maintain the cleanliness of the workstations and provide healthy working environment to our customers. Our cleaning specialists have many years of experiences and are well-trained to meet our customers requirements. We are always on the go to create welcoming offices at all times to make favorable impression for your guests.
Our skilled and well equipped team is here to offer quality service to fix the fittings and fixtures, changing of new light bulbs, realignment of cabinet hinges, touched up and re-lamination of furniture, and many more with the right tools to bring back the aesthetic look for your home. Our team will always conduct safety precaution to keep the surrounding safe while providing proper services to our clients.
Learn more about Total Cleanz commercial cleaning. 
Send your enquiry to us and we will do our best to accommodate your requirements!
Call us at 6440 3342 or fill in this contact form here.