The following house cleaning tips and home hygiene guidelines can help to keep your family protected during flu period.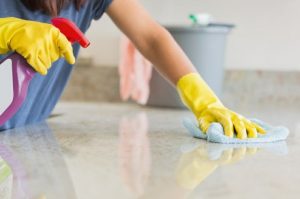 Flu Prevention House Cleaning Tips
Disinfect High-Touch Areas. Any surface, object, or area that family members regularly touch should be frequently and thoroughly disinfected. These include door handles, faucet handles, kitchen counters, tabletops, desktops, light switches, phone handsets, computer accessories, tablets, and remote controls. Be careful not to risk electric shock when disinfecting electronics.
Disinfect Outside Items. Any items that leave your home — like clothes, purses, backpacks, shoes, and smartphones — can track germs back into your home. Launder and/or disinfect these items often.
Use Microfiber Materials. Microfiber cloths and mop pads will trap bacteria and viruses during cleaning instead of smearing them over surfaces.
Manage Air Quality. Prevent coughing and sneezing by managing your home's humidity levels and by filtering the air in your home with HEPA-filter technology.
Clean & Disinfect More Often. Stay on top of germs by cleaning more frequently. If you use a home cleaning service, consider asking them to clean and disinfect your home more often or during the period.
What product should I use?
The easiest and fastest way to clean and disinfect your home is to choose a product that does both. Examples of common products that both clean and disinfect are Lysol™,Virox,™ and Fantastik™.
Products should contain sodium hypochlorite, quaternary ammonium, or hydrogen peroxide in sufficient quantities to kill 99.99% of bacteria and viruses that are harmful to people. Read the label of the cleaner/ disinfectant you intend to use to see whether it contains one of these ingredients, and if it claims to be able to kill 99.99% of "germs".
An alternative to choosing a product which both cleans and disinfects is to first clean with a soap or detergent(such as Mr. Clean™, Green Kitchen Cleaner™, or CLR™), and then disinfect surfaces where bacteria or viruses are most likely to be found with a disinfectant.