Total Cleanz offers long term office regular cleaning to maintain the cleanliness of the workstations and provide healthy working environment to our customers. Our cleaning specialists have many years of experiences and are well-trained to meet our customers requirements. We are always on the go to create welcoming offices at all times to make favorable impression for your guests.
Total Cleanz has more than 20 years of office cleaning experience, working with multinational companies as well as smaller independent businesses.
Our skilled and well equipped team is here to offer quality service to fix the fittings and fixtures, changing of new light bulbs, realignment of cabinet hinges, touched up and re-lamination of furniture, and many more with the right tools to bring back the aesthetic look for your home. Our team will always conduct safety precaution to keep the surrounding safe while providing proper services to our clients.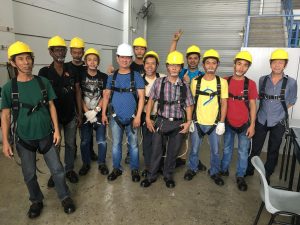 Under the Workplace Safety and Health (WSH) 2006 Act, Our Homecleanz staffs who perform metal scaffold erection in the building and construction industry have took the metal scaffold erector course to ensure safety on the job site.
Providing a clean office environment is a key component to a modern, effective organisation. Cleanliness is of paramount importance to a company's brand persona and client perception. It also has a major role to play for employee health and wellbeing and can directly influence productivity through the prevention of absences from work.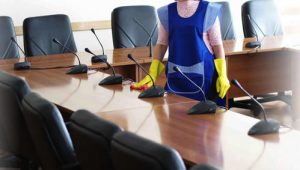 The Importance of Commercial Office Cleaning
Did you know that:
On average, employees lose nine workdays each year due to sickness, often linked to poor workplace hygiene.
A typical office keyboard can harbor up to 7,500 bacteria.
Viruses like the flu can survive on unclean surfaces, such as desks or electronic equipment, for up to 24 hours.
Approximately 60% of work-related illnesses result from exposure to dirty office equipment, including harmful microorganisms like e-coli, staph, and bacteria.
With 65% of office workers sharing phones and computers, and telephones alone hosting a staggering 25,127 germs per square inch, employers must prioritize cleanliness.
How clean offices can help workplace productivity
A clean working environment offers numerous advantages:
1. Enhanced Focus:
A tidy workspace reduces distractions, allowing for better concentration and improved work quality.
2. Time Efficiency:
Searching for documents in a cluttered office can waste valuable time. Well-organized offices make it easy to locate paperwork swiftly.
3. Stress Reduction:
A clutter-free desk promotes a more focused and less stressful work environment.
4. Increased Profitability:
Clean offices result in higher productivity, reducing time spent searching for documents. The International Data Corporation reported potential annual losses of £1.9 million ($2.5 million) due to decreased productivity in untidy workplaces.
5. Reduced Absenteeism:
Clean workspaces contribute to overall health, potentially reducing sick leave.
6. Elevated Morale:
Employees in clean work environments tend to be happier and more productive, fostering a positive work atmosphere.
Our comprehensive office cleaning services include spot cleaning (e.g., tea spills), external fascia cleaning, air conditioning vent cleaning, cafeteria and kitchen cleaning, and carpet vacuuming.
We provide an extensive range of office cleaning services including
Spot cleaning (e.g. tea spills)
External fascia cleaning
Cleaning air conditioning vents
Cleaning cafeterias, staff rooms and kitchens
Vacuuming carpets
Learn more about Total Cleanz office cleaning.
If you're looking for office cleaners to maintain a spotless working environment, ensure the health of staff and maximise productivity, call us today on 6440 3342 or email salesenquiry@homecleanz.com